Sadly, the end of what has been an entertaining Premier League season is now upon us, and writers everywhere are picking their teams of the season, so I thought I'd do the same.
The problem I have with many of these teams is that, most of the time, it's pretty obvious who will be in them and as a result, they don't vary much from writer to writer. That's not very interesting to me; and I'm sure none of you reading this need me to tell you how good a season Luis Suarez, Eden Hazard or Yaya Toure have had.
So, I try and do things a little differently. I pick my team solely out of players who had never played a single Premier League game before this season.
It is known that the Premier League can be a particularly tough league for players to adapt to, and many excellent players have tried and failed to do so in the past. I think this makes it all the more impressive when a player can come into a new league and produces their best in their first season.
As this is a team of the season, I don't include players who arrived in January, as they have not played a full season.
So here's my Premier League newcomers team of the season 2013/14 (in a 4-2-3-1 formation)
GK: David Marshall (Cardiff City)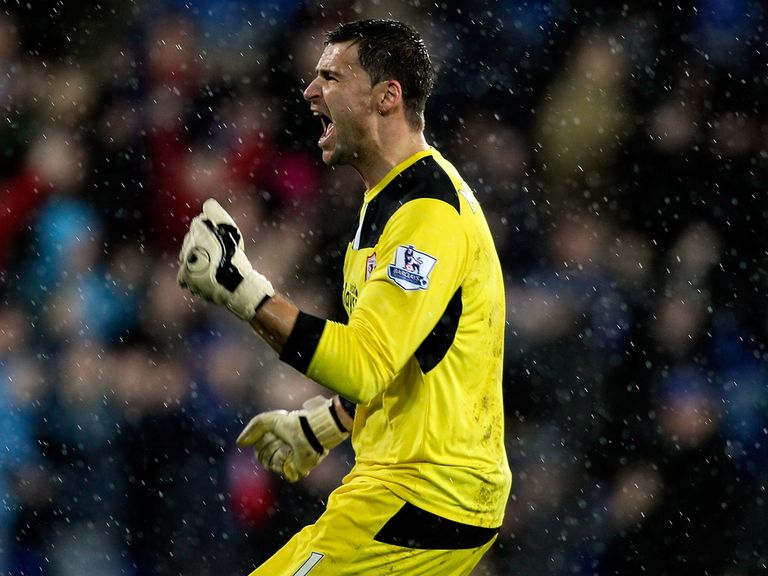 Marshall's selection on paper may seem strange, as no goalkeeper has conceded more than him. However, no goalkeeper has had more shots to deal with than Marshall has, and for the most part, he has dealt with them very well and has been one of, if not the best shot-stoppers this season. Without Marshall, Cardiff would have been relegated far sooner than they were, and he is one of the few Cardiff players to emerge from this season with their reputation enhanced. Unfortunately for Cardiff, there are several clubs interested in him, and he mightn't be there much longer.
LB: Erik Pieters (Stoke City):
This season, Stoke have adapted well to Mark Hughes' managerial style, which is much more skill-based and less reliant on physical play than the Stoke teams that played under Tony Pulis. They've had a quietly effective season where, despite a slightly slow start, they have never really been in any danger of relegation. Pieters has been a personification of this, as he has quietly put together an extremely good season and has shown himself to be a very solid and reliable defender.
RB: Leandro Bacuna (Aston Villa):
Aston Villa have had another frustrating season, but Bacuna has been one of the positives they can take forward. Bacuna is not a natural defender; having converted to the right-back position from being a winger and this has shown at times, with him making several mistakes. But, as the season progressed, he grew into the role more and more and the frequency of those mistakes decreased. He has proven to be a huge asset for Villa going forward though, scoring five goals from right-back, and every time Bacuna has scored at Villa Park, Villa have won.
CB: Dejan Lovren (Southampton):
Lovren has been one of the outstanding defenders of this Premier League season. Lovren reads the game extremely well; he has one of the best interception rates of any defender in the league, as well as being both good in the air and suited to playing a high defensive line. Unfortunately for Saints fans, it looks likely that Lovren will move on this summer, with both Liverpool and Manchester United being interested, although it will be for far more than the £8.5m Southampton paid for him
CB: Martin Demichelis (Manchester City):
Demichelis has had a tough time of it this season, with the English media being all over him, and he seems to have become the scapegoat for Man City's fans after a couple of errors in high-profile games. However, I find the criticism of him unfair, as I think that overall, Demichelis has done a solid enough job. Yes, he's not exactly blessed with pace, but his reading of the game and his positioning means that he intercepts the ball or gets in a position to make a tckle more than he gets in a foot race, so it's not that often that this lack of pace is exposed. Add to that the fact that he is more than comfortable on the ball and is capable of starting attacks off. He's certainly not a long-term option for City, but he was never meant to be.
MF: Mile Jedinak (Crystal Palace):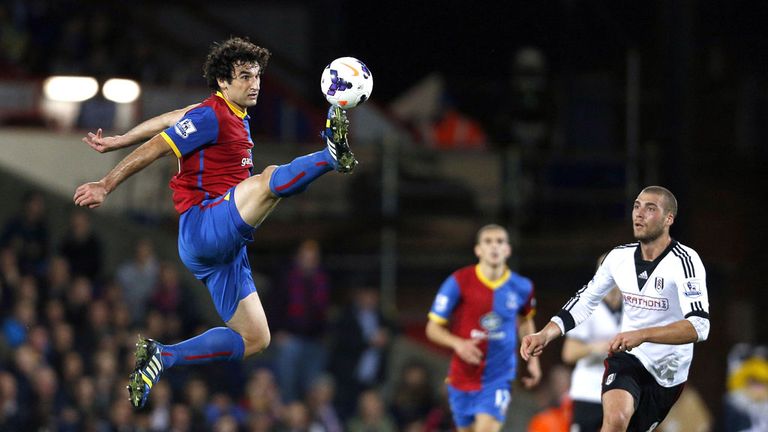 Jedinak is another player who struggled initially to adapt to the Premier League, having been one of the players who won Crystal Palace promotion the previous season, but has become one of Palace's most effective players. Jedinak isn't that comfortable on the ball, and isn't blessed with an abundance of skill, but makes up for that with dogged, determined defensive play. Jedinak is one the Premier League's best players in terms of tackles and interceptions, and will be a key player for Australia this summer.
MF: Fernandinho (Manchester City):
Fernandinho arrived for a lot of money, but has lived up to his transfer fee. He is an excellent tackler, and his energy and mobility means that he's able to cover a lot of ground in midfield not only making tackles, but also in pressing the opposition. Part of Fernandinho's value to City this season has been that his arrival has allowed Yaya Toure to play a more advanced role this season, which he has done to great effect.
MF: Yannick Bolasie (Crystal Palace):
If I'm honest, I've always had a soft spot for players like Bolasie, who has made it to the Premier League the hard way, having bounced around the lower leagues of English football for the early part of his career. Bolasie found things tough early in the season, but has been in terrific form in recent months as Palace have pulled away from the relegation battle to finish the season strongly. Bolassie's pace and trickery have caused problems to some of the Premier League's best defenders. Bolasie's form was such that English pundit Paul Merson called for him to be included in the England World Cup squad, not realising he's already a DR Congo international.
MF: Christian Eriksen (Tottenham):
History will not look back kindly on Spurs' transfer activity last summer, with Spurs' getting little return on the pitch from many of their signings. One of the undoubted successes though has been Eriksen, who has grown in stature and influence on the pitch as the season has progressed. He is an excellent passer of the ball and is capable of creating chances for others, having made 8 assists so far this season to go with the 7 goals he scored.
MF: Willian (Chelsea):
At the time, Willian seemed a bit of a superfluous signing, as Chelsea already had several excellent players capable of playing in his position. However, over the season, Willian has shown exactly why Chelsea paid so much for him and were willing to freeze Juan Mata out of the team before eventually selling him. He combines brilliance on the ball with creativity and is also more than willing to do his share of the work defensively.
FW: Wilfried Bony (Swansea City):
Swansea paid a club-record £12m to Vitesse Arnhem to sign Bony, which was a risk as not only is that a massive fee for a club like Swansea, but the Premier League has been littered with strikers who have scored plenty of goals in the Netherlands only to struggle to adapt to the Premier League. Bony got off to a slow start, perhaps hampered by the fact he didn't have a pre-season with Swansea, but has blossomed into one of the best strikers in the league, having scored 15 goals (at the time of writing) for a Swansea team that has been missing the attacking threat of Michu for most of the season. Bony is more than a good finisher of moves though. He is good in the air and his physical strength means he's good at holding up the ball for teammates to run on to. The worry for Swansea fans is that one of the bigger clubs in the Premier League, such as Arsenal or Spurs, both of which are rumoured to be interested, buys him this summer.
Substitutes
GK: Allan McGregor (Hull City): McGregor's form in goal was one of the reasons Hull got off to such a strong start this season. He has excellent reflexes, rarely makes any mistakes and is able to command his penalty area well. Unfortunately for him, the latter part of his season has been interrupted by a nasty kidney injury.
DF: John Stones (Everton): Stones was signed as a right-back, but has played most of his games this season at centre-back covering for the injured Phil Jagielka and has done so well that he is being mentioned as a possible inclusion in the England squad for Brazil. He still makes some mistakes; he's been guilty of ball-watching on several occasions, but will lose some of those bad habits with a bit more experience and should become a key defender for Everton in the coming seasons.
DF: James Chester (Hull City): Hull's strong start to the season was largely thanks to their defence, who were excellent. I don't think it was a coincidence that Hull started to go through a difficult patch of form when a hamstring injury meant Chester missed months of action earlier this year.
MF: Mesut Ozil (Arsenal): Great things were expected of Ozil when he joined Arsenal, as he is one of the world's best players. Initially he started well, but his form started to slip as the season progressed and his influence on games became less and less. However, he still has scored 5 and assisted 9 in the Premier League this season. If he can do that while not playing anywhere near his best, imagine what he'll do when he hits his stride.
MF: Adnan Januzaj (Manchester United): Januzaj has been one of the few positives to this Manchester United season. He is an extremely skilful player who is exciting to watch. He also has shown a cool head on the pitch when he has been on the receiving end of some rough treatment. Januzaj's form has been sufficient for him to earn a long-term contract at United and have a chance of making Belgium's World Cup squad.
FW: Marko Arnautovic (Stoke City): Arnautovic arrived in the Premier League with a reputation of being a good player, but difficult to manage. I saw him playing in the League Cup early in the season and he had a 'what the hell am I doing here?' expression on his face for most of the game, and he struggled in the first few months of the season to adapt. Since then, he has started to excel in a Stoke team which has exceeded expectations this season.
FW: Alvaro Negredo (Manchester City): Negredo was one of the stand-out players of the first half of the season, scoring nine goals and forming a lethal partnership with Sergio Aguero. Since then, his form has nose-dived due to an injury and he has been overtaken by Edin Dzeko in the City pecking order.