"For reasons of historical necessity I have to admit that out of all the adversaries who have confronted us, The Greeks fought with bold courage and highest disregard of death"
At any other tournament, Germany v Greece might not have been one of the potential highlights. However, amidst economic chaos, with some Greeks blaming Germany and vice versa, this game suddenly takes on a whole new intriguing context. Germany, the powerhouse of Europe economically and a nation of seemingly endless footballing talents, up against Greece, a nation crippled economically and a footballing side that has defied belief to get to where they are. Perhaps it would be too cliche, or maybe unfair to suggest this is a David v Goliath encounter but few can argue Germany aren't huge favourites here. 
Both teams have been largely as expected in their performances on the pitch so far. Germany have won each of their group games without being spectacular in any of them, with Gomez being clinical in front of goal. The defence has been largely solid and a midfield capable of putting teams on the back foot for 90 minutes. They still have a couple of gears to find but so far so good for Germany. Greece on the other hand have somehow got through with a largely ramshackle side at times that are rarely pretty to watch but you can't fault their endeavour. A dismal display against Poland, followed by an even more dismal display against Czech Republic and then the unbelievable happened, they stifled Russia and managed to snaffle a goal. They've relied on mistakes while making a few themselves, so can Greece have any hope for this?
Possible line-ups: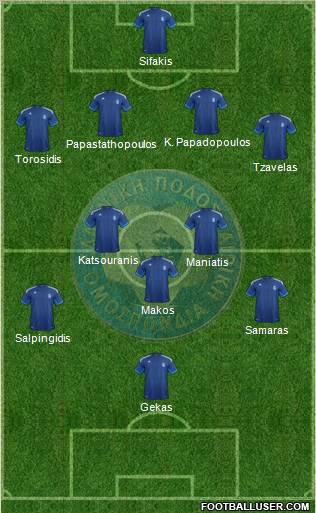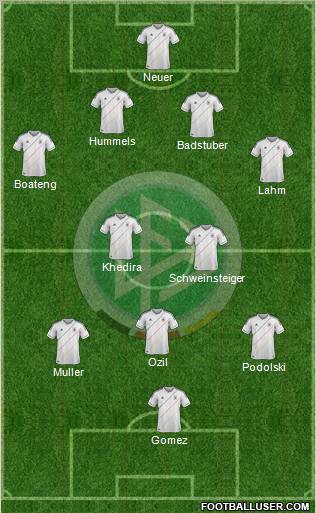 Germany have a strong and stable first eleven without any need for changes. The 4-2-3-1 formation is a system everyone in the team is extremely comfortable playing. The German camp seems like a happy one and they go into the game as clear favourites. Despite being placed in the group of death, it could be argued they haven't had a proper test yet. Portugal have just got going but in the first game they were abject, Netherlands were in disarray all tournament and Denmark are not one of the top teams.
Against top teams, Bayern Munchen, the team where seven of the starting eleven play, they often found themselves struggling. Indeed, Marion Gomez's scoring record against the top six sides in Germany was woeful last season. The problem is that when a team attacked Bayern Munchen and really got them on the back-foot for large periods, Gomez was an isolated pillar in a sea of opposition. His movement and general play outside the box is poor so the team can look lost and disjointed. However, Germany's midfield and defence make sure they are the dominant team for large portions of games and that leaves Gomez to do what he does best, finding spaces in the box and finishing chances. 
Greece show no signs of attempting to control a game or putting the opponent on the back-foot. Especially in the absence of their captain Karagounis, Greece are more than likely going to sit back and try and get Germany on the break. It's an unfortunate position for Greece to be in, in some respects that is their best chance of winning. It's what they know and it's what they seem best at, scrapping it out at the back but pluckily staying in games and treating every set-piece as a chance. However, playing like this only plays into Germany's hands, with Gomez set to spend large sections of the game in and around the Greek box. 
The Greek side is lacking in pace across the team and looks susceptible to the German three of Podolski, Ozil and Muller. The problem Germany may have is if Greece defend so deep that the pace can't be utilised properly. In the last game for Greece, all too often Russian found themselves with a wall in front of them and the likes of Arshavin being forced to go back or to the side. Germany will need to shake Greece and make them unbalanced in order for the attacking players to get some joy in this regard. Lahm and Boateng look crucial for this too, as well as Hummels from deep. 
Key Players:
Mesut Ozil – With the three in midfield of Greece set to back off and protect the back four, Ozil will have his work cut out to find space around the box. This space is crucial for Germany, with Gomez often relying on others to create the space for him. Ozil's off the ball movement is slick, often moving into wider areas to collect the ball in order to overload that side. His role is crucial in breaking Greece down both on and off the ball. 
Giorgos Samaras – So far he's had a truly terrible time at Euro 2012 and represents a real weak spot in the Greek defensive unit. With Muller, Boateng and often Ozil going off down the right, Samaras could provide the door Germany probe for. On the ball he's been equally as poor. He sees a lot of the ball relative to other Greek players and if Greece are to do well, he'll have to find his form, against arguably the weakest German defender in Boateng. 
Mats Hummels – It's not so much his defensive work that Hummels is key, it's going forward. His marauding runs have caused stirs in the group stages, with cheap comparisons to Beckenbauer being thrown around. With Greece backing off, Hummels provides another threat going forward that can upset the balance of teams. Likewise his passing can spring attacks from the back swiftly and accurately. 
 In what promises to be a game with paraphernalia surrounding the game in light of the economic and political situation, lets hope for 90 minutes where we can enjoy the escapism football gives us. 
Predicted scoreline: Germany 2-0 Greece