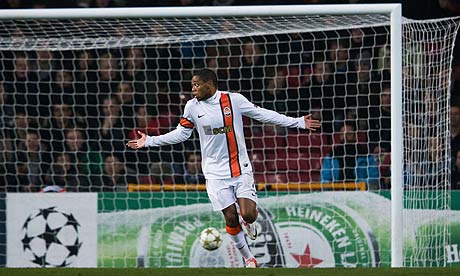 It's one of football's unwritten rules that when a team puts the ball out of play so that an injured player can receive treatment, the opposition gives them the ball back when play restarts. However, there are occasions where this doesn't happen. Sometimes a player hasn't been paying attention, doesn't fully understand what's going on, or just decides to throw sportsmanship out of the window and scores.
That's what happened in the last round of the UEFA Champions League group stage, in the game between Danish side Nordsjaelland and Ukrainian side Shakhtar Donetsk, when this happened.
In the game with Nordsjaelland leading 1-0, play was stopped so that Nordsjaelland's Morten Nordstrand could receive treatment for a head injury. From the resulting drop-ball, Shakhtar's Willian sent the ball up the pitch to give it back to Nordsjaelland, but Luiz Adriano ran on to it, rounded the goalkeeper and scored.
For this action Luiz Adriano, who was initially unrepentant following the game, but later apologised, has received a one match ban by UEFA for "violation of the principles of conduct", as well as the condemnation of the media and football fans all over the world. Shakhtar went on to win the game 2-5.
At face value, it seems that Luiz Adriano is being harshly punished for violating an unwritten rule, but UEFA's disciplinary regulations clearly state that they are well within their rights to punish Luiz Adriano, with Article 5 stating that:
 "Member associations and clubs, as well as their players, officials and members, shall conduct themselves according to the principles of loyalty, integrity and sportsmanship", with Luiz Adriano being guilty of "behaving in an unsporting manner to gain advantage"
So, UEFA are absolutely entitled to punish Luiz Adriano, but the question I have is, should they have? Just because you can do something doesn't always mean you should.
I'm sure nobody who saw Luiz Adriano score that goal thought it was the right thing to do; but it also has to be remembered that according to the laws of the game there was nothing wrong with what he did, as evidenced by the fact that the referee had no choice but to award the goal. I think that it's a slightly ludicrous situation for a goal to be awarded, but after the game, punish the player for scoring it.
What went unnoticed in the furore that followed this goal were the actions of Shakhtar, which were, in my opinion, at least equally as unsporting as those of Luiz Adriano. Another unwritten protocol in football is that on the rare occasions where a team has scored a goal in this manner, they then immediately give the opposition a goal back, by letting them score unopposed. Shakhtar didn't do that, with Shakhtar captain Darijo Srna blaming a breakdown in communication for defender Taras Stepanenko stopping Nordsjaellands Nicolai Stokholm when he was running through to score.
If Shakhtar had allowed Nordjaelland to run up the pitch and score unopposed from the kick off, then it would've been a case of 'no harm, no foul' and nobody would've been too bothered by Luiz Adriano's actions, as he team wouldn't have gained an advantage, and it would've been unlikely that UEFA would have punished him.
Whilst I believe that Luiz Adriano knew exactly what he was doing when he scored; there is at least still a sliver of a chance that he wasn't aware that his team were returning the ball to Nordsjaelland, and he legitimately thought that he was doing the right thing by his team by scoring. In contrast, there can be no doubt that Shakhtar didn't realise that they shouldn't have scored that goal; and they knew they should've let Nordsjaelland score to make things right. So, why aren't Shakhtar being punished? Surely their actions are every bit as unsporting, if not more so, than those of their player?
At the time of Luiz Adriano's goal, Nordsjaelland were leading 1-0. There is a case to be made for that goal being the tipping point in that game, a mental blow that Nordsjaelland never recovered from. On paper, Shakhtar are the stronger team by far, but who's to say, that without that goal, they would have won the game? Following that result, Shakhtar Donetsk have qualified for the last 16, meaning that either Chelsea or Juventus will miss out, possibly as a result of a goal that should never have been scored. That just doesn't seem right.
It seems clear that UEFA want to set a precedent with this decision. They want to send a message that unsportsmanlike behaviour will not be tolerated. I'm sure everyone will agree that this is a laudable sentiment, but is unsportsmanlike behaviour something that can be legislated against?
If they want to punish players for unsportsmanlike behaviour, UEFA will have to clearly state what they deem to be unsportsmanlike, something which is not currently done and then come up with an appropriate set of rules. They will then have to come up with a proper disciplinary system for unsportsmanlike behaviour, so everyone knows what punishments players who breach these rules face.
There are many actions in an average game of football that can be deemed as 'unsportsmanlike'. Players dive, deliberately foul, falsely claim throw-ins and corners, shuffle up the pitch when taking throw-ins, claim to have won the ball when the commit a foul, grab hold of opponents and shirts from set pieces and goalkeepers dive forward from their line on penalties. So, are UEFA now to punish every player who does any of these actions? If not, how are they judging that one form of unsportsmanlike behaviour is more or less serious than the others?
The problem I have with rules concerning conduct of players is that they are so inconsistently and selectively applied and often are done as a result of media pressure. One player will get away with doing something another player gets punished for.
For example; in the game in question, Nordsjaelland's Morten Nordstrand was, at best, embellishing the head injury that caused the game to be stopped in the first place. Technically, he was in breach of the same UEFA regulations as Luiz Adriano due to "culpably causing a match to be interrupted" for no good reason, so where's his punishment?
What Luiz Adriano did was a pretty appalling thing to do. It went against every definition of sportsmanlike behaviour and fair play. UEFA were within their rights to punish him and some may say they were right to do so. However, Luiz Adriano didn't break any of the rules of football and has been punished for scoring a legitimate goal, and with that in mind, I can't agree with this punishment. I don't believe you can legislate for morality.