We take a look at some of the greatest attacking partnerships ever to grace the Premier League and what puts them ahead of the rest.
In no Particular order:
ALAN SHEARER AND CHRIS SUTTON
The 1994/1995 season is just a distant memory to many football fans, but try telling that to Blackburn Rovers supporters and they will be quick to tell you how great that year was. This particular season will be etched in their memory for the rest of their lives. Here's why.
In the summer of 1994, a young Chris Sutton became the most expensive player in English football, after his transfer from Norwich City cost Blackburn a hefty £5m. It caused great excitement around Ewood Park, as the striker would be teaming up with the 'Football Writers' Association Footballer Of The Year' at the time, Alan Shearer. The season previous, Shearer had played 40 games and scored an impressive 31 goals, leading Blackburn to finish second in the league behind Alex Ferguson's Manchester United.
The pair struck up almost an immediate partnership, to the delight of then manager Kenny Dalglish, and went on to carry Blackburn to Premier League glory, going one step further than the season before. 'The SAS' (Shearer and Sutton) scored a remarkable 46 goals between them (Shearer 31 and Sutton 15) in the season that saw the Lancashire club snatch the league title from the hands of Manchester United. Revenge!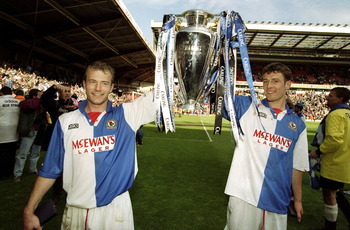 Everything went right for the pair that season. Every attempted flick found it's target, every run that was made was picked out, and every shot that was struck seemed to find the net. The way they knew where each other were was almost like magic, and the Rovers' fans still have day-dreams about them to this day.
The following season, Shearer finished the season with 31 goals in just 35 games, although Blackburn eventually finished 7th in the league. However things didn't go to plan for Sutton. A loss of form mixed with a number of niggly injuries saw him play only 13 games that season and failing to find the net on every occasion.
As Shearer went to make a name for himself at his home club Newcastle United, Sutton would again find his form and finish Premier League top scorer the year after.
Although the partnership only really lasted for one season, it was enough to leave a lasting memory for a lot of football fans around the country.
DWIGHT YORKE AND ANDY COLE
I have never in my life seen such telepathy, than when I watched Andy Cole and Dwight Yorke playing together as Manchester United's front two.
Andy Cole was signed from Newcastle by Alex Ferguson in the January transfer window of 1995 for £6m + winger Keith Gillespie, after Cole's incredible 68 goals in 84 appearances for the Geordies. His form carried on as he scored 12 goals in 18 league games for United and £6m seemed well spent, until Cole's first full season at Old Trafford. It started off slowly, with the goal-gobbler only getting on the score-sheet 14 times during the season. However, Cole has always had a knack of grabbing goals in important situations and he did just that as he bagged the winner in the FA Cup semi-final against Chelsea. United went on to win the cup.
'King' Eric Cantona, as he is known at Old Trafford, decided to call it a day and try to carve out a career in acting (What was he thinking?!). United fans were devastated.
Up stepped Dwight Yorke.
When Fergie splashed out almost £13m for the services of the Villa player, his judgement came into question from both supporters and the national papers but the long serving Manchester United manager would, again, be proved correct in his decisions. The winger-turned-forward arrived with an upturned collar, a laid-back attitude grin as big as his transfer fee and would leave with a place in every Manchester United fans heart forever.
Yorke and Cole would soon make a name for themselves as one of the most feared strike pairings in Europe. With the footballing brian of the former, and the pace and crisp finishing of the latter, mixed with a unique personal friendship, the pair set The Premier League alight.
In Yorke's first season, he finished joint top scorer in the league with 18 goals. In all competitions that campaign, Cole and Yorke hammered home a combined total of a whopping 53 goals and helped Manchester United win the treble (Premier League, FA Cup & Champions League). They tortured some of Europe's best defences on their way to Champions League success including the likes of Barcelona, Inter Milan and Juventus, while Cole scored United's winner against Tottenham on the final day of the season to see them lift the Premier League trophy.
They continued their partnership the following season with Cole scoring 19 in 28 and Yorke scoring 22 in all competitions and leading Man Utd to yet another league title. A golden period in United's history, and these two will be remembered forever as being a part of that.
Later in their careers, the pair would reunite, this time for Blackburn rovers. We never saw the magic that made them Old Trafford heroes but looking at what they achieved, that was never very likely!
Cole is currently 2nd in the all time Premier League goalscoring list.
ROBBIE FOWLER AND STAN COLLYMORE
A 10-year-old Robbie Fowler could have never have known the highs that his career would reach as he joined Liverpool's youth system as a small child. Fowler was then known as Bernard Ryder (Bernard his middle name, Ryder his mother's maiden name) and grew up as an Everton fan, regularly visiting Goodison Park to see his beloved Toffees play. However it would be in the red strip of Liverpool that he would enter his name into the record books.
Fowler burst onto the scene in 1993, scoring 5 goals against Fulham at Anfield in a League Cup first round replay, just a week after his Liverpool debut. It doesn't end there. In only his fifth senior game, Fowler netted his first ever league hat trick against Southampton. What a way to introduce yourself to the footballing world!
After 120 goals in his original 8 years at the club, Fowler returned to Anfield after stints at Leeds United and Manchester City, and scored another 8 league goals for The Reds. In all competitions, the Liverpool legend bagged 183 goals, putting him 5th in the club's Top Goalscorers list.
In the short time Stan Collymore was at Liverpool, he had a goal scoring ratio of a goal every 2.5 games, not bad for a player who looks more like a NBA star. Collymore played 61 times for the scousers, scoring 26 goals, and although you may not be 'wowed' at that stat, in the 1995-1996 season, he linked up with Robbie Fowler and the pair seemed to thrive as they scored a combined 42 goals (28 Robbie Fowler & 14 Stan Collymore).
Collymore was very much the provider for Fowler, who now sits fourth in the Premier League all time Goal Scorers list with 163 goals, in a season that saw Liverpool finish 3rd and win a place in the Cup Winners' Cup.
Fowler's career dwindled away and he most recently became a player/manager for Thai side Muangthong United, however he has since left the club.
Collymore hung up his boots in 2001 and has since been involved with a number of sports shows as a pundit, and has hosted a variety of football shows on the radio.
FREDDIE LJUNGBERG AND DENNIS BERGKAMP 
I wont be alone when I say Dennis Bergkamp is one of my favourite football players, ever.
Whenever I hear his name, I cannot help but think of that moment of pure inspiration against Newcastle back in March 2002. Robert Pires played a low pass into the feet of Bergkamp, who had his back to goal. In a split-second, the Dutchman flicked the ball  round Greek giant Nikos Dabizas, while Bergkamp ran round the other side, and calmly slotted the ball into the net to score one of the most memorable goals in football history.
Described as 'The best player he ever played with' by former team-mate Thierry Henry, The non-flying Dutchman (a nickname stemmed from his fear of flying) has a very impressive CV, winning the Eredivisie with Ajax, the UEFA Cup with Inter Milan and The Premier League on 3 occasions with Arsenal, where he also won the FA Cup four times.
Dennis Bergkamp has struck up some great partnerships during his time with the likes of Ian Wright and Nicolas Anelka, however I enjoyed watching him most while he was combining his flair and creativeness with Arsenal's Swede Fredrik 'Freddie' Ljungberg.
Ljungberg, usually occupied the space behind the strikers, and his understanding with Bergkamp was second-to-none.
Video of Ljungberg and Bergkamp famously linking up to score against Juventus in 2001
A mix of genius and footballing intelligence possessed by both players made them stand out whenever they were selected to play in the same team. The link above highlights the quality that beamed from both players.
Once famous for the red stripe in his hair, the Arsenal crowd regularly sang the song :
'We love you Freddie, because you've got red hair, we love you Freddie because you're everywhere, we love you Freddie, you're Arsenal through and through' (In the tune of 'Cant Take My Eyes Off You')
Bergkamp is currently assistant manager at Ajax while Ljungberg is still playing football but without a club at present.
NIALL QUINN AND KEVIN PHILLIPS
The ultimate big man – little man partnership.
The strength of a horse and his flawless heading ability made 6ft4 Niall Quinn the text-book target-man. Sunderland signed the Irishman after he impressed with Manchester City, and although he was in his 30s at the time, he showed there was still life in the old dog. Quinn struggled with injury in his debut season with the north-east club and they were eventually relegated from the top flight, but the crowd at the Stadium Of Light would soon be in for better viewings.
After suffering from a foot injury in 1996, Kevin Phillips was signed by then Sunderland manager Peter Reid for £600,000. Phillips became an instant hero scoring 35 goals in his first season, including a run of 7 consecutive games when he found the net, equalling a club record.
The best was yet to come.
In the season of 1998/99, Sunderland clinched promotion back to the Premier League, having lost just 3 games all season. Undoubtedly, Phillips and Quinn were the two key figures to this with the former scoring a massive 23 in 26 and the latter scoring 18.
A famous quote from Rodney Marsh at the time: "Phillips will struggle to score 6 goals", referring to Sunderland's season back in England's elite. Phillips happily accepted the challenge and by September, Phillips had already bagged the 6 goals Marsh had doubted him over. Niall Quinn finished the season on a respectable 14 goals, his second highest goal tally in the Premier League to date, but it would be Kevin Phillips that stole the headlines. The Black Cats ended the season in 7th, despite being widely written off before they had even kicked a ball, and Phillips' league total came to 30 goals. This extraordinary form saw him become the first Englishman to win the European Golden Boot.
Phillips still remains the only Englishman to win this award.
Quinn and Phillips lacked the flair of Bergkamp and Ljungberg, they lacked the telepathy of Yorke and Cole, but the duo certainly did not lack the goals. 44 goals in the season stands as one of the greatest goal tallies between a strike partnership the Premier League has ever seen.
Kevin Phillips is still playing despite turning 39 this summer, and is currently scoring for Ian Holloway's Blackpool. He has also played for Southampton, Villa, West Brom and Birmingham. At the time of writing this he has scored a staggering 281 goals during his 20 year career.
Quinn retired in 2003 and in July 2006 became chairman of Sunderland but has since stood down, and is now chairman of an Irish broadband company called 'Q SAT'.
EIDUR GUDJOHNSEN AND JIMMY FLOYD HASSELBAINK
'Fire and Ice' was a nickname given to these incredible players during their time at Stamford Bridge, whilst playing for Chelsea. This was in reference to Hasselbaink's fiery attitude on the field, in comparison to Gudjohnsen's cool, calm and collected personality. They couldn't have been more different both on and off the pitch, but maybe this is what led to them having such a successful rapport with one another. After all, they say opposites attract, don't they?
Both players arrived at Chelsea in the same week, Gudjohnsen for £4m; Hasselbaink for £15m.
During the 2001/02 season, The deadly pairing netted 50 goals between them, with Gudjohnsen getting 23 and helping his team-mate Hasselbaink reach his final total of 27.
There was something intriguing about their contrasted relationship. Hasselbaink was a cocky player, gloating a broad frame and a muscular legs, the power he could generate would frighten any keeper who dared to attempt to keep out one of his strikes. He was a defenders' nightmare, the strength to put you on your backside and the movement to leave you dazed, the Dutch star is still 10th in the All Time Premier League Goal Scorers on 127 goals.
Flip the coin you have Eidur Gudjohnsen. A nimble link-up player that could change a game with a single pass, a deft creator of goals yet a clinical scorer himself, Gudjohnsen scored 85 in 186 in his time with the Blues.
A short video showing just how impressive the front two were for Chelsea.
Gudjohnsen went on to play for Barcelona and returned to the Premier League with spells at Spurs, Stoke and Fulham. He is currently unattached. Hasselbaink is now a first team coach at Championship side Nottingham Forest after ending his playing career at Cardiff City.
Fans dream of having a strike partnership that know each other inside out, that make playing with one another look easy, and most importantly to score a ton of goals to lead them to glory.
I have listed just 6 of the great pairings to play in the Premier League, but there have been plenty worthy of a mention, and there looks to be plenty more about to start something special.