19th October 2002. A 16 year old Wayne Rooney comes off the bench and smashes a late winner in to David Seaman's goal, ending Arsenal's 30 game unbeaten run and also making him the youngest player to score in the premier league at the time. He has since joined Manchester Utd and become the 3rd highest paid football player behind only Cristiano Ronaldo and Lionel Messi, (two of the greatest to ever play the game) won 4 league titles and the champions league, and broken all sorts of records along the way.
I'll be starting my 'Super 6' with the top youngsters currently applying their trade in the top flight who are trying to follow in the foot steps of Wayne Rooney.
In no particular order:
1) ALEX OXLADE-CHAMBERLAIN
Son of former England international Mark Chamberlain, Alex was born with the pressure to succeed. At the age of just 7 Alex was signed up to Southampton's youth academy and made his first team debut 9 years later at 16 years and 199 days old. Chamberlain's first competitive game came against south coast rivals Bournemouth in August 2010. Southampton went on to win the game 2-0 with Alex scoring the second goal which helped him gain a professional 3-year contract with The Saints in the same month. The youngster sparkled, finishing the season on 9 goals helping Southampton get promoted to The Championship and earned his place in the PFA League One team of the year.
There was something special about this kid. So much so that in the summer of 2011, Arsene Wenger made him an Arsenal player for a hefty sum of £12m risisng to £15m after add-ons. The price tag didn't seem to frighten the teenager as he settled within the squad and made his first Arsenal appearance coming on in the humiliating 8-2 defeat to Manchester United. Since then his performances have continued to flourish and impress the red half of North-London and has recently been described as 'the future of Arsenal' by goal-gobbler Robin Van Persie.
Chamberlain has been a part of the England set up since the under 18 squad and was called up to the senior side for the European Championship 2012, where he would go on to make a big name for himself (as if it wasn't already big enough!). 'The Ox' started in England's opening game of Euro 2012 against France and was one of the brightest players on the pitch.
Still only 18 years of age, the bulky teenager has the footballing world at his feet. Chamberlain has one of the best managers in the world at developing young talent and under Arsene Wenger's Guidance he is bound to excite for years to come.
2) VICTOR MOSES
Nigerian-Born Victor Moses in on the brink of a move to Chelsea. There's good reason for that. The 21-year-old has been one of Wigan Athletic's most vastly improved players in the past 2 years and the time may be right for him to make his big money move to Roberto Di Matteo's Champions League winners. Dave Whelan, the Wigan Athletic Chairman, seems to be holding out for £8-10m for the attacker and Chelsea seem to have agreed a price.
Representing England from the under 16s right up to the under 21s, the ex-Crystal Palace player switched allegiances and picked his native Nigeria. He has only played a handful of games for his country but each time he has been a thrill to watch.
Moses moved to England aged 11 and resided in South-London, a stones throw from local football stadium Selhurst park (Crystal Palace's stadium). This is where Moses would start his promising career. He signed for the Crystal Palace academy and soon became a fan favourite, largely because of the buzz he created whenever he got the ball. A player confident in his own ability, Moses loves to run at opposition players weaving in and out leaving the defenders guessing which way he is going to turn before unleashing one of his trademark vicious strikes at goal. In his first season, the powerhouse scored 3 goals which provoked Palace into offering him a 4 year deal at The Eagles. However, his career at palace never really continued in the same form after that.
Skip to January 2010 and Roberto Martinez went all out to make Moses a Wigan player. Palace were in administration (again!) and weren't in the position to turn down the £2.5m offered by The Latics. With 8 Wigan goals to his name so far I believe this is the season Victor Moses will really push on and make an impact, whether that will be in the pie-munching town of Wigan or down in the capital is yet to be known.
3) OSCAR
Teen sensation Oscar has been a talking point with every football fan up and down the country this month. Signing from Internacional, the Brazilian will be occupying the turf at Stamford Bridge this season after Roman Abramovich forked out a whopping £25m for the prospect.
Currently beating players for fun at the London Olympics, Oscar has helped Brazil reach the final against a strong Mexico side. He has been 1 out of 2 players that have been involved with every single one of Brazil's goals in the tournament (and considering they have scored at least 3 in all games, that is some achievement!). Oscar has also played for the Brazil U20, U23 and the senior side. His most memorable game for his charismatic country came in the FIFA U20 World Cup Final, scoring a superb hattrick which was later compared with the unforgettable Geoff Hurst hattrick in 1966.
Di Matteo will be looking at Oscar to show the sort of pedigree for the upcoming season and help them finish higher than last seasons rather average 5th place. At only 20 years old, he is one of the most exciting youngsters to pull on a premier league shirt and the fans of the double-winners from 2011/12 will be getting comfortable in their favourite armchairs to see what he can do!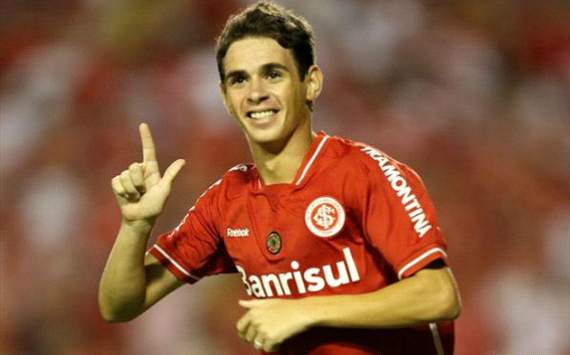 4) KYLE WALKER
We now come to my favourite Right back since the Legendary Cafu, and that is some statement! The bombing full back caught my eye while in the stripes of Sheffield Utd and I have been an admirer ever since, watching him play for Northampton Town, Queens Park Rangers and Aston Villa and I'll certainly be hoping he can make an impact back at his permanent team, Tottenham Hotspur.
A Sheffield boy from birth, Walker joined United as a determined 7 year old and by the time he was 18 he had progressed up to in and around the first team. A short loan move to League one side Northampton Town in November 2008 ended after just 9 games but the Cobbler's fans saw enough of Walker to be impressed.
He returned to Sheffield for remainder of the season and made his mark on the Blade's first 11 in the last few games. Originally picked on the back of an injury-hit squad he soon showed the management team why he should be playing regularly. Walker kept his spot for The Championship Play-off games semi-finals and eventually the final but the Yorkshire team were narrowly beaten 1-0 by Burnley.
Harry Redknapp, then Spurs manager, snapped up both Kyle Walker and Kyle Naughton and brought them down to London. Although part of the £9m agreement was to loan the pair back to United for the 2009/10 season, Walker was a key figure at Bramall Lane while the Spurs fans could only wait in anticipation to see the Young Englishman in action. They did soon get their wish though. Harry Called Walker back to Tottenham as cover for his right-back position in February of the same season.
With another season of experience under his belt, Walker was then on the move again in the season on 2011/12. He spent the first half of the season on loan to QPR and the second half of the season at Aston Villa, again an ever-present in both teams.
Frustration grew as Walker wanted to settle and play regular football at one club and mentioned he was willing to move on if needed which prompted Redknapp to offer him a new contract. Since then he has become a permanent fixture in the Tottenham defence and has proved himself as a bit of a goal getter. Picture this. 1-1 with your fiercest rivals, and the ball drops to your feet. Before you have time to panic you take a touch and hit it with your second. It ends up beating a flapping keeper from 25 yard and the crowd erupts. That is exactly what happened to young Kyle Walker and has found himself a place in every Spurs fans heart since that day.
There was no one happier than myself when he finally got a call up to the England senior team. Not even Kyle himself! After playing for England U19 and U21, he got his chance when he was named in the squad to play world champions Spain and started against Sweden later that year earning himself the Man of the Match award.
I'm expecting big things from Walker this season as he continues to establish himself as a first choice full back for club and country.
5) FABIO BORINI
Known for his crazy goal celebrations, Borini is Brendan Rodger's first signing for Liverpool. This will be the third time Borini has played under Rodgers (the other two being when Rodgers was in charge of Chelsea reserves, and then while he was Swansea manager, the Irishman took Borini on loan to the Liberty stadium) and he is hoping that this time round is just as successful. Borini scored 6 goals in 9 appearances for the swans including a remarkable free kick against Norwich City. Borini also won a penalty for his team in the 2010/11 play-off final to help Swansea secure a money-spinning place in the top flight.
Borini moved home to Italy shortly after, signing a 5 year deal with Parma but just a month later went on loan to Roma. 'I Giallorossi' had the chance to buy Borini on a permanent if they chose, for a figure in the region of  €7m. The Serie A side later decided to buy the player on a co-ownership deal worth around €2m and later went on to pay the other €5m to take 100% possesion of the young Italian hot-shot. With a scoring ratio of only 1 goal every 2.7 games Roma didnt stand in his way when Liverpool offered the reported £10m.
After recently making his full Italian debut in a game against USA, things are starting to look up again for Fabio. The chance to work under his friend and former boss Brendan Rodgers will be enough for him to put in the sort of performance the scousers will be hoping for. Some see Borini as a replacement to pony-tailed flop Andy Carroll as he is rumoured to be leaving merseyside soon. Others wish to see the two strikers playing off one another. Either way, the Liverpool Kop will be keeping their fingers crossed that they witness the trademark Borini goal celebration on a weekly basis.
Fabio Borini's unusual goal celebration consists of the player placing his left hand in between his teeth. This is to represent a knife between his teeth and is seen as a hunger to achieve your goals.
6) NICK POWELL
Crewe Alexandra have churned out some top quality players over the years. Dario Gradi is responsible for The Railwaymen's development of their young players. Some names to come through this famous system are ex liverpool and England midfielder Danny Murphy, a now retired Dean Ashton and Wales international David Vaughan.
Step up Nick Powell. The most recent wonder-kid that has had The Alex fans on the edge of their seats. Powell scored a stunning volley in front of the 24,029 in attendance against Cheltenham Town, to get Crewe promoted to League One. This was only one of his 16 goals that season which saw him finish top scorer and winning every single one (all 5) of the Crewe Alexandra end of season awards. The awards included 'Goal Of The Season,Young Player Of The Season and Player Of The Season'.
From the Alexandra Stadium to Old Trafford. Sir Alex Ferguson was obviously just as impressed as the rest of the nation by the raw talent possessed by the teenager and signed the Crewe-born on in July 2012 for an estimated £6m. Powell has only just turned 18 and has bags of potential. Who knows what the future holds for the new United number 25.